VOX Cinemas at City Centre Qurum
At City Centre Qurum, VOX Cinemas has seven screens for you to choose from, each one showing Bollywood, Arabic language films and Hollywood blockbusters all in glorious detail. Sing along with your favourite Bollywood stars, or watch Bruce Willis save the world (again) in the latest action-adventure. Spacious seats and plenty of food and drink options make a trip to City Centre Qurum VOX Cinemas a real treat. And with plenty of on-site parking as well as retail outlets and restaurants, you've got everything you need for a great day out.
Location: Located on Level 1
Address: City Centre Qurum, Muscat, Oman
EXPERIENCES AVAILABLE
Try something new every time you visit VOX Cinemas. With over eight unique moviegoing experiences, you'll never get tired of watching movies in style! How will you be watching the latest blockbusters?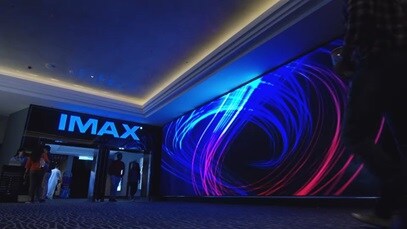 IMAX
Experience films to the fullest when you watch them in IMAX. Larger-than-life curved screens, a perfectly tuned integrated sound system and comfortable seats make IMAX the perfect choice to see the biggest blockbusters.
---
Food and drinks
For every film, there's the perfect snack. Whether it's sweet or salty popcorn, chocolate treats, or something a little more sophisticated, VOX Cinema's selection of food and drink complements your viewing experience perfectly.
Click on the button below to know more and to check out the menus.