6 Delicious Ways you Should be Eating Popcorn
The classic cinema staple gets a yummy makeover!
Popcorn is the ultimate movie night companion. It's a versatile snack for all reasons and seasons. Craving something savoury? Need a sweet fix? Bored? Popcorn to the rescue.
We decided to give this snack staple a makeover and transform it into new dishes with delicious combinations that'll surprise your taste buds. Enjoy this lip-smacking selection of original recipes straight from VOX Cinemas' kitchen. Let's get popping!
1. Live for sweets? Make some Chocolate Marshmallow Popcorn Squares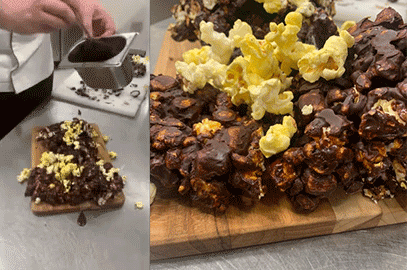 Preparation time – 10 mins
Cooking time – 10 mins

Ingredients
300g dark chocolate
50g unsalted butter
60ml cream
100g crushed Oreo biscuits
200g caramel popcorn
50g mini marshmallows

Method
1. In a double boiler/bain-marie, melt the chocolate slowly while being careful not to overheat the chocolate. Once fully melted, add the diced butter and mix until velvety smooth.
2. Add the cream and mix quickly for it will firm up fast.
3. Add the caramel popcorn, marshmallows, crushed Oreos and mix well.
4. In a baking paper-lined tray, spread the popcorn evenly until flat and refrigerate for one hour.
5. Remove from the fridge and cut into squares, drizzle with chocolate sauce, marshmallows, popcorn and enjoy
2. Guilt-free popcorn? Yes please! Try this Kale and Cheddar Popcorn Caesar Salad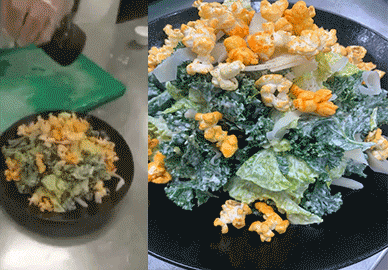 Preparation time – 20 mins

Ingredients
For the dressing:
100g mayonnaise
1 small clove garlic
2tbsp lemon juice
1tsp Dijon mustard
3tbsp grated parmesan

For the salad:
80g kale leaves
90g romaine lettuce
15g shaved parmesan cheese
3tbsp Caesar dressing
15g cheese popcorn

Method
1. For the dressing: mix all ingredients in a bowl with a whisk until smooth and set it aside.
2. In a large bowl mix romaine and kale leaves together. Add three tablespoons of dressing, cracked black pepper and toss it until all the leaves are well coated in the dressing.
3. Place into serving bowl and top with the cheese popcorn and shaved parmesan.
3. How about some colourful and flavourful Popcorn Nachos?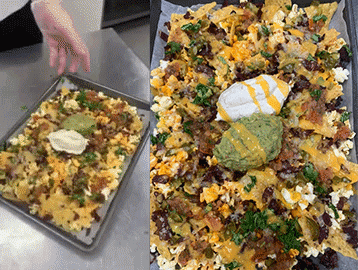 Preparation time – 30 mins
Cooking time – 2-3 mins
Ingredients
40g cheese popcorn
30g salted popcorn
30g cheese sauce
50g pico de gallo (or tomato salsa)
60g guacamole
20g sliced Jalapeños
40g smoked Cheddar cheese
40g beef bacon
40g sour cream
50g tortilla chips
1tbsp finely chopped coriander
Method
1. Place both flavours of popcorn and tortilla chips on a baking tray.
2. Add smoked cheddar, chopped beef bacon & sliced Jalapeños and bake at 180 degrees Celsius for 2 – 3 minutes.
3. Once nicely baked and the cheese has melted, roughly distribute the pico de gallo and coriander on the nachos. Add a spoon of the guacamole and the sour cream.
4. Finally, finish with a generous squeeze of cheese sauce on top.
4. Indulge in a delicious Caramel Popcorn Shake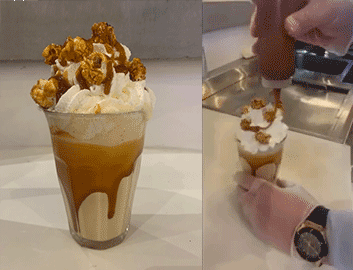 Preparation time – 5 mins
Ingredients
2 scoops vanilla ice cream
200ml milk
20g caramel popcorn
1tsp caramel sauce
60ml whipped cream
Method
1. In a blender add the ice cream, milk, 15g of popcorn and caramel sauce, and blend on a low speed for 30 seconds.
2. In a large glass drizzle the caramel sauce on the inside rim of the glass and let it drip down.
3. Add the milkshake leaving around one inch at the top of the glass empty.
4. Top with the whipped cream and popcorn pieces, and drizzle with caramel sauce.

5. Bring on the spice with Popcorn Onion Bhajis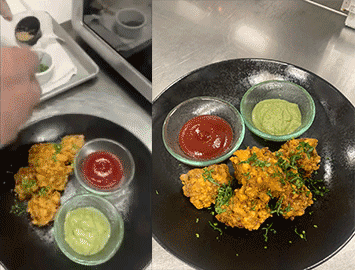 Preparation time – 15mins
Cooking Time – 3-4 mins

Ingredients
40g salted popcorn
35g grated local potato
15g finely sliced red onion
5gm grated ginger
1tsp turmeric powder
1tsp red chili powder
1tsp garam masala/curry powder
1tsp fenugreek leaves
90g gram flour/plain flour
125ml water

Method
1. In a large mixing bowl, grate the potato and ginger. For the potato use the larger side of the grater.
2. Add all remaining ingredients and mix with your hands until everything is well incorporated.
3. Form balls with the mixture in your hands and very carefully place in hot oil (around 180c). Make sure to drop them in the oil slowly so they don't break apart.
4. After 3-4 minutes they should float to the top of the oil and look golden brown. Remove onto a tissue paper to drain the excess oil and season with salt or a sprinkling of chat masala.
5. Serve with mint chutney or any other sauce that you prefer
6. Your favourite caramel popcorn gets a mouthwatering twist in Caramel Popcorn Squares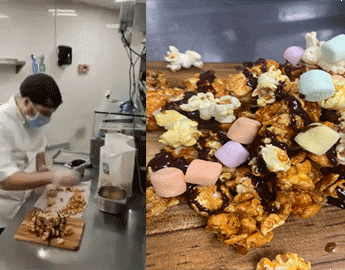 Preparation time – 2 mins
Cooking time – 5 mins

Ingredients
1tbsp salted butter
60g mini marshmallows
200g caramel popcorn

Method
1. Melt butter in a large non-stick pan, add the marshmallows and mix until melted into a smooth paste.
2. Add the caramel popcorn until evenly coated with the melted marshmallows.
3. In a tray lined with baking paper, spread the popcorn evenly and flatten it down with the back of spatula so it's packed tight.
4. Place in the fridge for one hour until fully set.
5. Remove, cut into squares and garnish with melted chocolate and mini marshmallows.
Have fun impressing everyone with your mad popcorn skills this quarantine...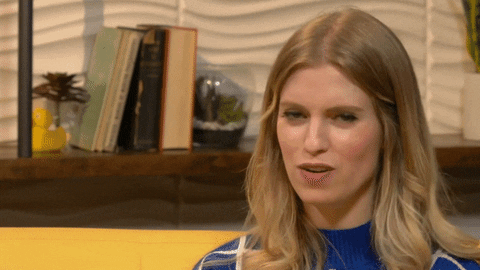 Which recipe did you like the most? Share your creations with us on social media and make sure to tag @voxcinemas. We'll be back soon with the next exciting VOX Voice!